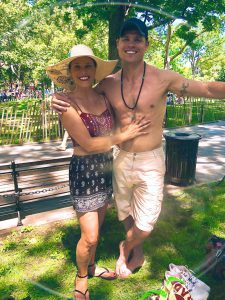 2 years ago at this time I was one day away from meeting and falling for someone…the last person I would entangle with before meeting my life partner.
I was still afraid to fully claim & own my desires for fear of asking "too much." I was doing a lot of wishing and hoping and not yet understanding how to fully and consciously create from a clear and grounded place within myself. I still thought that I needed to learn to be "more self-reliant/independent" and less "needy." I was a bundle of anxiety for the entire 2 months of that relationship dance. I was still playing the waiting game & hoping to be "chosen."
I'm so grateful for that time that was so intense because after that I refused to suffer any longer for the sake of "love." I started communicating with the divine daily. I got clear about what I wanted. Through some powerful, straightforward guidance I got that I didn't need to learn how to stop feeling certain things or denying myself in order to become "stronger." I fully understood that there is no such thing as a "needy" person or "too much." I got that it's MY JOB to choose me AND to choose my partner and that to love myself is to know what conditions support my blossoming and to ensure that I'm planted in those conditions.
I had no idea at this time 2 years ago the ride I was about to step onto and how it would be one of the most intense, excruciating and greatest gifts I could receive. In that time, I understood what it is to truly be a queen.
I write this today for those of you who get anxious, consumed & distracted when you are dating and relating, for those of you who tip-toe around what you feel and really want, who wonder if on some level you really are asking "too much" and need to learn how to "chill the f*ck out." I write this for the self-doubters who deeply long for healthy, loving committed partnership. I write this for you who long to be chosen. I write this for you because I see you and know what your path has been like, the pain that you feel…and I know the way out.
I had already been on a lifelong journey of growth and relationship Mastery before I got those final lessons…and what I didn't know at this time 2 years ago is that I was just 4 months away from meeting the man I would choose to spend the rest of my life with…and that I would never feel so "chosen" in my life.
Standing for your having it ALL.
Melissa
P.S. I'm here to be your guide and mentor. If you wanna know how the heck you heal these patterns and how you, too, can fully live into the fulfillment of your desire for partnership, send me a message via my contact form and we will set up a conversation about how I can help.