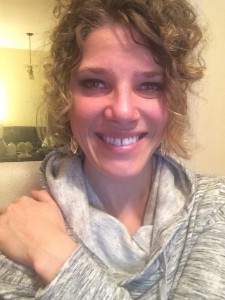 So, for 5 years, the brand name of my business was JoyDiva. On twitter, I'm still TheJoyDiva.
And today, I'm recognizing that joy might be the most challenging emotion to allow myself to soften into. I'm kickass at creating joy out of tragedy, of seeing the beauty amidst the mud and muck of existence…and I've caught my mind red-handed this week doing everything it can to sabotage simple joy left and right.
In her breadth of work on vulnerability, Brené Brown mentions that "joy is the most vulnerable emotion we experience," and I now see that I am no exception to this experience. I can pour my heart out to you on this page. I can talk about my pain, I can start a new life from nothing, own a business, perform and speak before hundreds of people, etc…but if you give me an opportunity to experience joy…the joy of success, of falling in love and all that good stuff…my mind will search for a million ways to shut that shit down in an instant.
I get it. I dealt with a lot of angry outbursts coming at me when I was a kid and a lot of drama. I got attached to the experience of the other shoe dropping without warning. So I've made myself hyper-vigilant, to create an illusion of being in control. I create mental obstacle courses for my loved ones to prove that it's safe to let go and simply feel the joy of their love. When you don't give me what I want, I make you wrong in my mind and put walls between us as I come up with a gazillion stories about why you didn't give me what I want and create you as the enemy. When you tell me you love me, I beam and moments later start to think about how that love might go away, how you don't really mean it, how you're going to change your mind–disappointing myself now, so that you can't do it later. (Think you're going to hurt me in some unknown future? Well don't worry 'cause I'm gonna hurt myself first and real good so you don't get to!) Yikes.
As it turns out, my mind is a master joy-killer, and in its addiction to keeping me safe and in control, it's kept me from the experience of true connection and the innocent bliss that follows. It's kept me in an anxious state of holding my breath the minute something joyous comes into my life.
And I'm so excited to see this! To see how scary it is for me to trust in innocent joy and goodness, to see how I'VE broken my own heart so many times by stopping my joy in it's tracks with looking for what is or is going to go wrong. I love that I am catching myself in the act of joy-killing–noticing the thoughts and breathing as I let them go and bring myself back to what's actually happening in the moment.
Because the truth is, I really can just be in love, and I really can just feel joy. You really can just love me and keep on loving me. And tonight, I am loving the little girl in me who is terrified to let go of control, and I am embracing her with compassionate understanding. This is an old story, and I don't need it to protect myself any longer. Moment by moment, step by step, I now have the opportunity to soften, further and further and further into…love.
Holy shit. Deep breath.
:)Melissa
©2014 Melissa Simonson