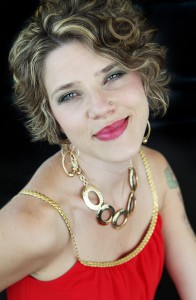 I am a Radical Self-Love Ambassador, Freedom Catalyst, and Sacred Space-Holder committed to living in a world in which people are lit-up from the inside out, fully self-expressed and overwhelmingly in love with themselves and their fulfilling lives.
I am a healer—a big, loving vessel, a conduit for your transformation. Through my work as soulful astrologer and self-love coach, I hold up a mirror for you to see ALL of who you are, the wholeness within your wounds, and you get to walk away with clarity on your path and in awe and in love with who you REALLY are.
I am a JoyDiva (on Twitter I am THEJoyDiva)–through my fierce love of myself and confident self-expression, I radiate joy from the inside out and inspire those around me to do the same.
I am a powerful singer, recording artist, performer, songstress & poetess. I am a weaver of words that land like truth in people's bones, that explode in their hearts and leave them feeling limitless and free.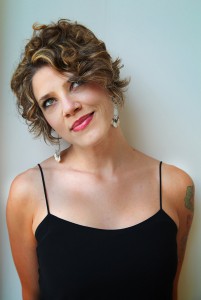 I am a permission giver for your soul, reminding you of the beauty of who you are, reconnecting you with the power of your YES and the wisdom of your sacred NO and igniting you to remember and CLAIM what you REALLY WANT in your life. (There is nothing wrong with you, and yes, my love, you can have exactly what you want.)
I am a beacon of vulnerability, taking the taboo out of all that is taboo—expressing myself authentically through word: silent, sung and spoken, to reveal the precious humanity within me and in turn, within all of us. I am lovable just as I am, and so are you.
The Details & The Story: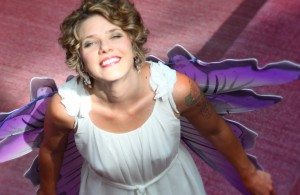 I'm doing my best as an adult to create the life that I chose for myself as a little kid, knowing that I light up the world when I'm pursuing that which brings me alive.
I started singing as soon as I could talk and spent many afternoons recording myself, playing it back and re-recording until it sounded just right. I started performing in front of audiences at the age of 7 and pretty much lived to sing, dance and act. I loved nothing more than creative self-expression and creating beauty through the use of my voice.
Right around the same time that I started performing, I discovered my love for Astrology. I can remember one afternoon with my slightly older sister as we read our sun-sign descriptions from the back of a baby-naming book—one of us responsible for reading the description while the other looked up the (many) words that we could not understand. As I learned new words that described me to a T, I discovered a passion that led to building a personal library of Astrology books and practicing my discoveries with everyone that I met.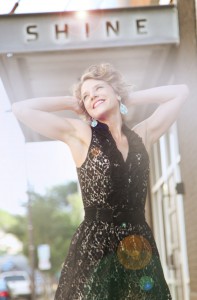 When I wasn't putting on singing and dancing shows for neighbors, playing dress-up and putting on make-up, writing stories, taking personality quizzes, studying astrology, and reading spiritual texts and self-help books (I was reading Deepak Chopra & the Tao Te Ching at 14, yo), you could find me listening and offering insight to my loved ones and peers. I've loved to "hold space" for as long as I can remember.
In the midst of all of this, I always felt like I was TOO MUCH. Too intense, too emotional, to talkative, to expressive, too sensitive, too deep. I was taking life "seriously" when it was so not cool to take life seriously. I was bullied and longed to fit in. I tried to dim my light and make myself "less" somehow. I coped with depression. I sought love outside of myself. I chased boys, and then men. In all the ways that I felt I was TOO MUCH, I could never seem to be enough.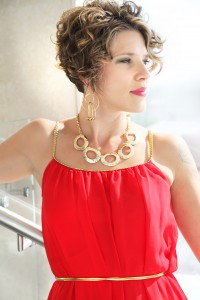 Fast forward many years and through all of the juicy soul-work that I was naturally drawn to, I got clear on my wound and discovered how it is my greatest gift. I now see that all of the ways that I was "too much" are all of the ways that I am meant to serve others—through my shining, I'm igniting the shining of others. I trained as a Life Coach in 2006 and have since been on a continued journey of honing my craft and expanding myself so that others can transform through the light that I offer. I recorded my first album of original songs called "Be a Light" in December of 2011. I've discovered the power of choosing myself in my relationships and I've discovered the freedom and joy that come through full-on, unabashed self-expression.
What's next? More Soul-mapping work that deliciously combines my intuitive gifts as Astrologer and Self-Love Coach. More singing and songwriting. More poetry. Another album. And the writing and production of my very own one-woman show in NYC. Yum. 🙂